2010 • Opening of the Atelier and Gallery for Contemporary Ceramics in Stadtschlaining, Burgenland
Tableware and food styling, small series and tableware for gourmet restaurants such as the Steirereck im Stadtpark, Vienna, and design hotels such as the WIESERGUT in Hinterglemm, Austria. Co-operation with a number of photographers, food stylists and authors of cookery books.
1998 • Final degree in Arts History and Classical Archaeology, University of Vienna.
1983-87 • Basic ceramic education at the School for Arts and Design (Ortweinschule Graz), Ceramic Design.
*Born in Waidhofen/Ybbs • Since 2006 Petra Lindenbauer lives with her family in Stadtschlaining.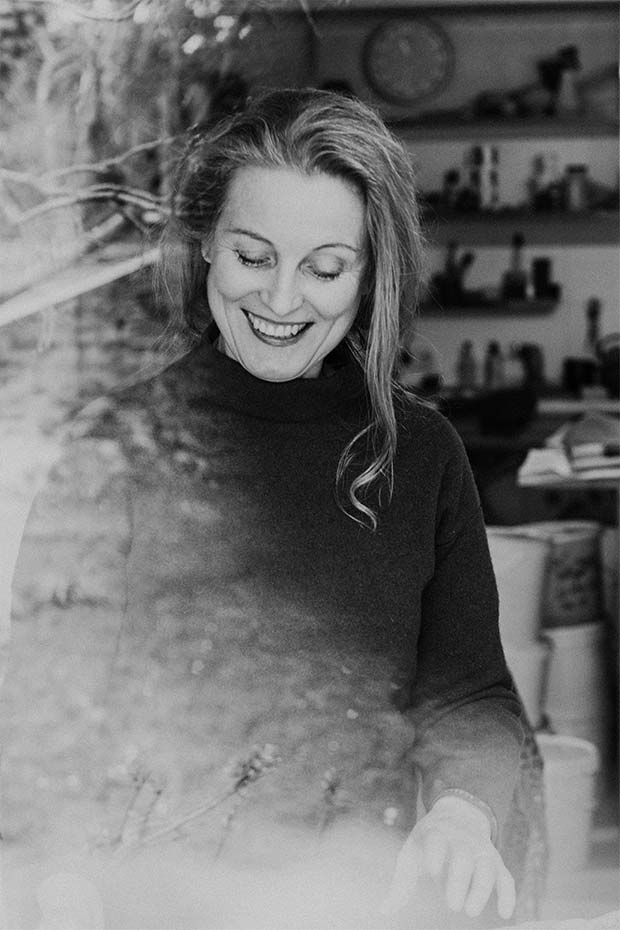 Projects, Exhibitions, Study Trips
Sept. 2023 • 2nd Taiwan Chawan Festival, Miaobei Art Center, Zhunan Township, Miaoli County, Taiwan.
April-June 2023 • group exhibition PANDORA "Signs of Identity in Women`s Ceramics. From Italy to Havana." Museo Nacional de la Cerámica Contemporánea Cubana, Havana, Cuba.
Jan.- April 2023 • Expo: International Coffee Cup Competition, Final Selection. Yingge Ceramics Museum, New Taipei City, Taiwan.
Sept. 2022 – Feb. 2023 • "Tonscherben- clay fragments", Landesgalerie Burgenland, Eisenstadt, Austria.
June 2021 • TEXTUREN, Stadtgalerie – raumimpuls, Waidhofen / Ybbs, Austria
2020 • IAC New Members Exhibition, Guozhong Ceramic Art Museum, Beijing, China
2020 • MATRES- Festival Internazionale di Ceramica Femminile, Cava de´ Tirreni, Campania, Italy
2019 • Member of IAC, International Academy of Ceramics
Nov. 2019 • XIV Biennial Artistic Ceramics Aveiro, Museu de Aveiro/Santa Joana, Aveiro, Portugal
Oct. 2019 • Steinbeisser`s Experimental Gastronomy in Vienna, with Lukas Mraz, Philip Rachinger and Felix Schellhorn, Austria
June 2019 • Baikal CeraMystica, International Art Project/Symposium, Lake Baikal Olkhon Island, Khuzhir Village, Russia
March 2019 • Serigraphy – Printed Clay, workshop mit Maria Geszler Garzuly, Internat. Ceramics Studio Kecskemét, Hungary
Dez. 2018 • Solo Exhibition "Table Tales", Mario Mauroner Contemporary Art Gallery, Vienna, Austria
Dez. 2018 • Traditional Macsabal (Bowl) Competition and Exhibition, honorable award, Hacettepe University, Ankara, Turkey
Nov. 2018 • GAOAN-Woodkiln-Workshop, S-China
May 2018 • Symposium ARTE IN SITU, Vodnjan-Istria, Croatia
May 2018 • 5th ARTCERAM2 Biennale, Sèvres, France
Jan. 2018 • Expo "Mugs and Cups", Weavers Studio for the Arts, Kolkata, India
Nov. 2017 • ICAF 2017, Sasama International Ceramic Art Festival 2017, Japan
Nov.2017 • Rijeka Mini Art, Galeria Jurla Klovic Rijeka, Croatia
Sept. 2017 • Lecture "Ceramics-Design-Tableware", Forum  GastroSuisse, Meisterschwanden, Switzerland
July 2017 • XXIV. International Raku Symposium, Plemenitaš, Croatia
2 – 12 September 2017 • Expo BOTTLES & BOXES, Lecture "Applied Art – Design Involving Environment.  Functional Ware and Beyond.", Old Church Vichte, Belgium
4 June – 31 Aug. 2017 • Exhibition ESPRESSO AND CAPPUCCINO CUPS, Museo della Ceramica, Castello di Spezzano di Fiorano, Fiorano Modenese, Modena, Italy
12 May – 29 July 2017 • GLAS PORCELAIN CLAY STONE, Galerie Pohlhammer, Steyr, Austria
2 – 7 May 2017 • International Tea Ware Expo, H2O-Gallery, Kyoto, Japan
2017 • Collection Unique Pieces for the restaurant "EssZimmer by Bobby Bräuer", Munich, Germany
18 Nov. – 1 Dec. 2016 • Kaohsiung Talee International Ceramic Expo, Kaohsiung, Taiwan
12 – 26 Nov. 2016 •  RUOSHUI Tea Gallery, Taipei City, Taiwan
1 – 10 Nov. 2016 • 19th CHAWAN EXPO, Northern Miaoli Art Center, Miaoli, Taiwan
Sept. 2016 • 10th International Eski şehir TerraCotta Symposium, Turkey
May 2016 • Viertelfestival NÖ 2016, "Wege bewegen Menschen",exhibition accompanying the project with Alois Lindenbauer, stone-ceramics, Austria
April 2016 • East/West Invitational Ceramics Exhibition – Heritage and Diversity, Hanyang-University, Member of Oranization Committee and Lecturer "Ceramic Art in Austria, a Survey", Seoul, Südkorea
March 2016 • Workshop "Tatara-technique" with Mami Kato (Japan), Barcelona, Spain
2016 • Collection Unique Pieces for the restaurant Silvio Nickol in Palais Coburg, Vienna, Austria
7 – 16 Nov. 2015 • International Woodfire Festival, Participation Exhibition in Beijing Imperial Ancestral Temple of the Forbidden City, "Forbidden City Contemporary Ceramic Art Exhibition", Beijing, Tiananmen Square, China.
26 – 27 Sept. 2015 • DU BOL 2015, The exhibition, Gallery ALLIAGES, Lille, France.
12 – 20 Sept. 2015 • 17th International Chawan Expo, Hemiksem, Belgium.
Aug. 2015 • Smokeless kiln-building in my studio with Japanese master Masakazu Kusakabe
10 Dec. 2014 – 30 Apr. 2015 • International Macsabal Fair Exhibition, Wanju, Jeonbuk, South Korea.
Aug. 2014 • Design and production of tableware for the Restaurant Steirereck im Stadtpark, Vienna.
1 – 30 Apr. 2014 • International Contemporary Ceramic Exhibition at the Abant Izzet Baysal University of Turkey.
15 June – 15 Sept. 2013 • "Passion for Art", Kunststation Kollmitzberg, Austria.
2013 • Participation at the "Eco-Art and Ceramic Festival" in Taean, South Korea.
Oct. 2012 • Design and production of the tableware for the Design Hotel WIESERGUT.
2012 • South Korea – study of traditional and contemporary Korean Ceramics.
11 March – 19 Sept. 2012 • Exhibition "By the Touch of Hands", Volksmuseum Vienna and Museum of Ceramics Modra, Slovakia.
2011 • Workshop with Sasha Wardell, UK.
2010 • Porcelain Workshop with Sabine Classen, Akademie Karlsruhe.
Media Reports – Clippings
2022 • Form & Freedom, portrait, magazine "Burgenländerin", 9/n.2, p. 54-56, text: Viktória Kery-Erdélyi, photos: Jennifer Vass
2021.2022 • Magazin Fiata – The woman, who "frames" luxury food, Portrait (Text by Roland Graf)
2021 • BURGENLAND since 1921, Travel through history and land. Publisher Brandstätter. Published by T. Stacherl & C. Langecker. Portrait Petra Lindenbauer, S. 37-39. Text: Barbara Tóth, Photo: Ingo Pertramer.
Oct. 2021 • Die Presse – SCHAU Blickpunkt, Gebranntes für Gebratenes, optische Leckerbissen (Text by Roland Graf)
2021 • L(i)ebenswertes Burgenland, Publisher Veronika Pinter, Portrait S. 72-75
Feb.2021 • falstaff LIVING – Keramik Raffinesse (Text by Katharina Remenyi)
July 2017 • Falstaff Special Issue – Vienna Festival Week
Jan. 2017 • Falstaff Karriere Magazine – "So hell wie junge Ferkel", Report Table Culture (Text by Nicole Afchar-Negad)
Nov. 2016 • Falstaff Magazine – Big in Japan
Sept. 2016 • Falstaff Magazine – Wild auf Kaninchen
Aug. 2016 • Food Report by Hanny Rützler
July 2016 • Fandler Öl-Culinarium
March 2016 • Die Presse Schaufenster – "Tonangebend" (Text by Anna Burghardt)
Feb. 2016 • Burgenland Heute – Portrait Petra Lindenbauer
March 2015 • Dr. Heberer Naturheilmittel – Brochure
Sept. 2014 • S-Magazin – "Ein Bild von Ton"/"An Image of Clay" (Text by Anna Burghardt)
Jan. 2014 • Lust auf Genuss-Magazin: "Unikate für die Ewigkeit"/"Unique Items for Eternity" (Text by Clarissa Schmarje)
2013 • Film about the ceramics of Petra Lindenbauer for the Design Hotel WIESERGUT
Feb. 2012 • SERVUS-Magazin: Atelier Portrait "Der gute Ton" (Text by Uschi Korda)
22 Aug. 2011 • Treffpunkt Kultur, ORF Radio portrait about Petra Lindenbauer (by Ulla Csenar)
and many more …